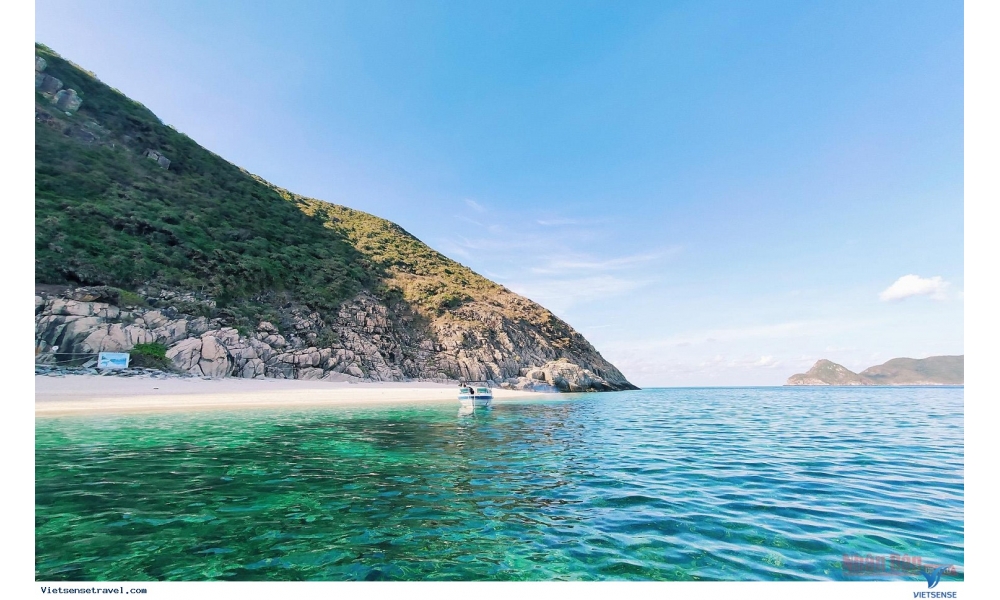 JOURNEY TO EXPLORE CON DAO
Destinations: HCMC – Soc Trang – Con Dao
Duration: 2 DAYS & 2 NIGHTS
Transport: Car – Speed boat

The evening before the 1st day: HCMC – Soc Trang (rest in the car).
23:00:
The car and tour guide of En Viet travel company will pick tourists up at the meeting point, and we'll start to explore Con Dao.
DAY 1:
Soc Trang – Con Dao (Breakfast, Lunch, Dinner)
06:00:
As the group arrives in Soc Trang, tourists will freshen up and have breakfast. After we arrive at the Speedboat Wharf (in Tran De district, Soc Trang province), the tour guide will check in for the group to board the speedboat to Con Dao (capacity of 306 guests, about 2h30 ~ 60 knots). Tourists will then be free to enjoy the wind, admire the scenery, take pictures, etc.
08:00 – 10:30:
The speedboat will dock at Dam Port - the largest port in Con Dao, which is a place for the transshipment of goods, passengers, transactions, seafood trade, and provision of marine logistics services. On the way, the tour guide will explain the tourist spots: Love Peak - Shark Cape - Marble Temple. Tourists will visit and take photos at Bai Nhat, and see White Stone Beach, and Shark Cape. Tourists will visit the stele commemorating the biggest prison break in Con Dao history (a memorial for 198 people).
11:30:
Tourists will have lunch at a local restaurant, check-in at the hotel, and rest.
14:30:
Tourists will visit:
The Palace of the Island Lords: Formerly the residence and working place of the island lords. This is where tourists will learn about the history of Con Dao's formation through artifacts, antiques, pictures, and documents saved from the French period to the present time.
Phu Hai Camp: An ancient and long-standing prison camp built by the French colonialists. This place is famous for its rice mill, solitary confinement area, and Con Lon's stone quarry site.
French-style tiger cage: Also known as Phu Tho camp. It is the focal point of Con Dao prison where tourists can explore a system of solid tiger cages built hidden between buildings like a maze, see the tiger cage, and hear descriptions of the physical torture of the prisoners.
American-style tiger cage: Also known as Phu Binh camp with narrow and damp cells. It was built in 1971, and mainly tortured prisoners mentally. It is the first place to receive news of the Saigon liberation.
Phi Yen Temple: Also known as An Son Temple. Phi Yen is the concubine of Lord Nguyen Anh and was one of the two spiritual patrons of the Con Dao people. Tourists can visit the temple, listen to stories about her, and learn the lullaby "The wind brings the cabbage back to heaven, the laksa leaves stay to bear the bitterness of life".
18:00:
Tourists will have dinner at a local restaurant and be free to walk around the coastal city of Con Dao or sit in front of Cong Quan (at the Lord's Palace) and enjoy coffee, old music, and fresh sea breeze (expenses excluded).
22:00:
Tourists will join the night program of visiting Hang Duong Cemetery and Tomb of Ms. Vo Thi Sau (expenses include shuttle bus and tour guide, free consultation on ceremony items).
DAY 2: Con Dao – Soc Trang – HCMC (Breakfast, Lunch)
07:00:
Tourists will have breakfast at the hotel.
08:00:
Tourists will visit:
Nui Mot Pagoda: Also known as Van Son Tu - a relic associated with Con Dao, and also the spiritual spot of the locals. Nui Mot Pagoda is a majestic architecture located on the top of the mountain with a beautiful landscape, definitely a not-to-be-missed destination when visiting Con Dao. From here, visitors can see An Hai lake with a panoramic view of Con Dao town and Con Son Bay.
Con Dao Pearl Farm: Tourists will learn about the growing process and admire the beautiful pearls from the waters of Con Dao.
Tourists will be free to visit and shop for souvenirs and specialties at the Con Dao market.
09:30:
Tourists will perform check-out procedures. Then, we'll have lunch at a local restaurant, rest, and relax on the spot.
11:00:
Tourists will depart for Dam port, board a speedboat, and return to Tran De wharf in Soc Trang.
12:00 – 13:45:
Tourists will depart for Ho Chi Minh City. On the way, tourists will have the chance to buy specialties like jaggery, Lai Vung spring rolls, pia cakes, coconut candies, fruits, etc. as gifts for your loved ones (expenses excluded).
18:00:
After we arrive in Ho Chi Minh City, we'll end the journey to discover Con Dao. We hope to see you in other programs.
Tour price inclusions:
Brand new car pick up – drop off according to the program
High-speed train tickets
High standard hotel with 2, 3, 4 people/room
Meals according to tour program
Tickets to attractions included in the program
Enthusiastic tour guide service
Entrance fees according to the program
01 bottle of 500ml water served/person/day
Travel insurance compensation of 20,000,000 VND/case
EnViet hat
Note: The above prices do not apply to public holidays, New Year's Eve and days close to Tet holiday.
TOUR PRICE FOR GROUPS OF 20 OR MORE:
2-Star Hotel:

Adult: 3.099.000 VND/pax
Children: 2.325.000 VND/pax

3-Star Hotel:

Adult: 3.500.000 VND/pax
Children: 2.625.000 VND/pax
Tour price exclusions:
Personal expenses, self-ordered drinks or food outside of tour program during meals, etc.
Expenses for sightseeing, transportation outside the program.
VAT