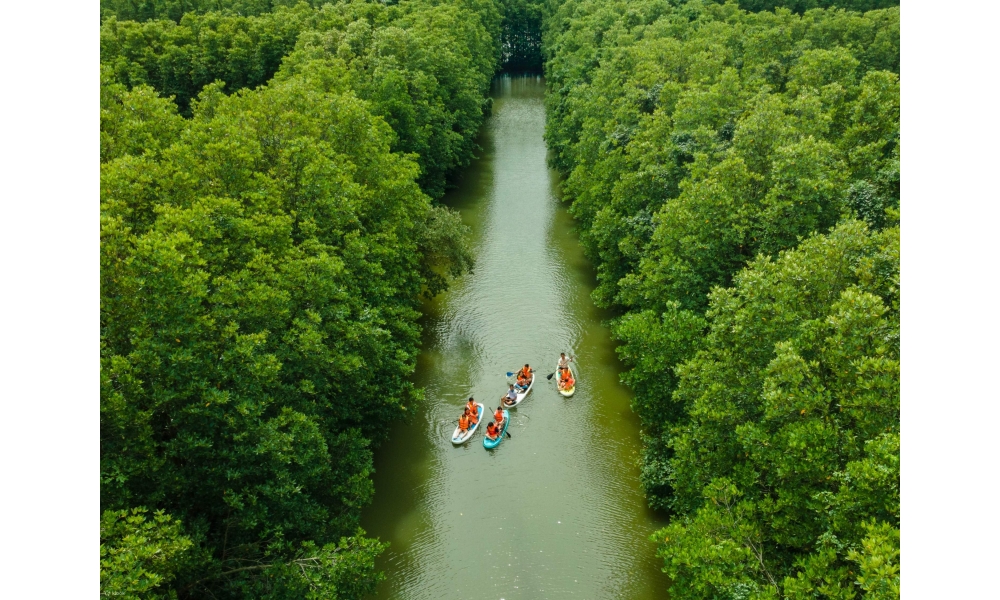 JOURNEY TO VISIT AND EXPERIENCE CON CHIM
Destinations: HCMC – Tra Vinh
Duration: 2 DAYS & 1 NIGHT
Transport: Car
DAY 1: HCMC – Tra Vinh (Breakfast, Lunch, Dinner).
06:30:
The car and tour guide of En Viet Travel will pick you up at the meeting point. Then, we'll depart to visit and experience Con Chim. On the way, you will join and interact with the tour guide and rest in the car. We'll have breakfast in Tien Giang.
10:30:
We'll move along Highway 53 to the tourist attraction named Con Chim. After arriving at the ferry terminal, tourists will get off the ferry to Con Chim - the land of warm-hearted locals.
10:45:
You will come to Con Chim, receive a conical hat, and take photos at the Gate of Con Chim village. Then, we'll start visiting the community tourist spot following the community-based and reconciliation tourism model and take a walk or cycle on the peaceful village road to enjoy the fresh air here.
11:30:
Tourists will have lunch at local's houses with Southern dishes made from local products.
13:00:
Tourists will check in and rest at a local Homestay.
14:00:
Tourists will visit:
The Old Southern Kitchen: Tourists will listen to an introduction about the history and people of Con Chim, enjoy tea made from five kinds of bean and folk jam cakes, drink ginseng dew, experience rafting, and go on a monkey bridge.
Coconut Garden: Tourists will see the coconut road, enjoy fresh coconuts with environmentally-friendly reed straws, admire the flower and rice fields, and enjoy the fresh air in the countryside. Being here, tourists will be guided on how to tie coconut leaves to make bags, locusts, watches, etc.
Co Ba Sua leaf cake: Tourists will visit the Vietnamese western-style Dragon Scale House, experience grinding flour with a nearly-a-century old stone mill, make leaf cakes, enjoy the results, and drink pandan leaf water with rock sugar.
Folk games: Being here, visitors can return to their childhood with common folk games such as jumping rope, shooting marbles, throwing cans, etc., and many other delightful games.
(*) Especially, tourists can participate in a crab racing game, and bet on crab athletes with prizes for winners (Please book in advance).
Crab Fishing (March - September) or Crayfish Fishing (September - March): Tourists can fish for crabs, shrimps, or crayfish pestles, and hear about the livelihood in the Bird Islet with the rice-shrimp farming model.
NOTE:
If tourists buy takeaway products, the fee may vary over time.
18:00:
Tourists will have dinner at locals' houses with Southern dishes made from local products and enjoy Banh Xeo with: river shrimp and home-grown vegetables, feel the sweetness, and rich aroma, and join the music exchange program with locals. Tourists will stay overnight at a local homestay. In the evening, we'll light a fire, bake potatoes, and row a boat to watch fireflies on the cork trees.
DAY 2: Tra Vinh – HCMC (Breakfast, Lunch).
07:00:
Tourists will wake up early to watch the sunrise, and enjoy the peaceful atmosphere of the countryside in the morning. Then, we'll have breakfast at the locals' houses with fried shrimp and white porridge.
08:00:
Tourists will bid goodbye to the Bird Islet, and get on the ferry to move to Tra Vinh city. Tourists will visit the city with many green trees, which is often known as "Western Dalat" with the following attractions:
800-year-old tree: Tourists will visit an 800-year-old old umbrella tree with a shade of hundreds of square meters, learn about mysterious legends, and pray for peace for yourself and your family.
Ba Om Pond (Square Pond): A unique landscape of Tra Vinh province with the beauty of the lake, the majesty of hundreds of years old surrounding forests, and the magnificence of strangely shaped tree roots, as well as learn about the legendary story of Ba Om Pond.
Ang Pagoda: The oldest temple in the Khmer temple system in Tra Vinh. It was built more than 10 centuries ago. The pagoda has ancient architecture, depicted and adorned with many works of art, with lines and patterns imbued with the cultural, spiritual, and religious identity of the Southern Khmer people.
Khmer Minority People's Museum: The museum is currently storing, displaying, and introducing more than 800 artifacts, images, and documents reflecting the material and spiritual cultural life of the Khmer ethnic community in Tra Vinh, from traditional to contemporary.
12:30:
Tourists will enjoy Ben Co noodle soup - a famous dish in Tra Vinh.
17:00:
Tourists will head to HCMC and end the journey to discover the land of the West's capital. We hope to see you in other programs.
Tour price exclusions:
Personal expenses, self-ordered drinks or food outside of tour program during meals, etc.
Expenses for sightseeing, transportation outside the program.
VAT
Tour price inclusions:
Brand new car pick up – drop off according to the program
High-speed train tickets
High standard hotel with 2, 3, 4 people/room
Meals according to tour program
Tickets to attractions included in the program
Enthusiastic tour guide service
Entrance fees according to the program
01 bottle of 500ml water served/person/day
Travel insurance compensation of 20,000,000 VND/case
EnViet hat
Note: The above prices do not apply to public holidays, New Year's Eve and days close to Tet holiday.
Tour price for groups of 12 or more at hotel/homestay:
Adult: 1.550.000 VND/pax
Children: 1.165.000 VND/pax